River Ridge Inn Braggin' Rights
Photo Collage Compliments of JOHN WILSON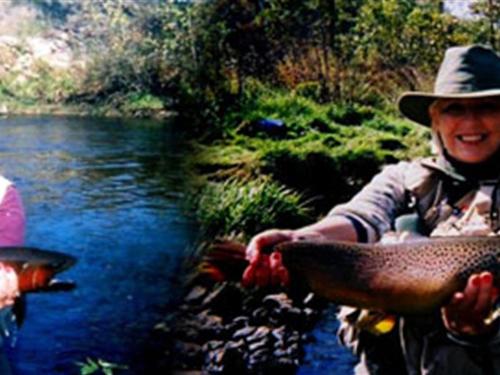 What just are "Braggin' Rights"?? Well, let's see what Webster has to say. Nah, let's just see what the Web has to say.

Definitions of bragging on the Web:
boastful: exhibiting self-importance; "big talk"



brag: an instance of boastful talk; "his brag is worse than his fight"; "whenever he won we were exposed to his gasconade"
OK, so it would seem that if we do not want to be exposed to someone's gasconade (?) then we better give those braggards a forum that will do their "big talking" for them. Whether you do or don't want to brag, send us your best photo taken while you stayed with us at River Ridge Inn. Let us know who caught it, where are you from, how big it was, where it was caught, and anything else you might want to brag about. i.e. you tied the fly, you fought it over night, the 20 pounder was caught on 9x, etc. But don't start gasconading on us. Here are a few starters: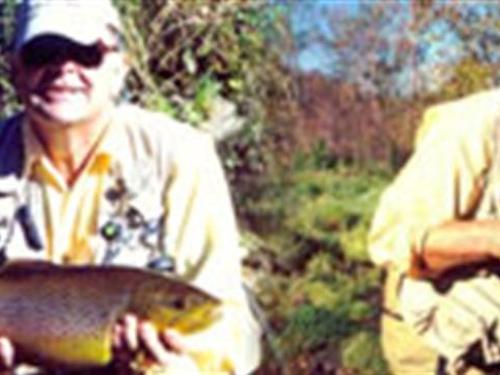 "The Allen's, Tulsa, OK, October 2005 Grand Slam by Fred"

Catching the "GRAND SLAM" is a rare event. If you want to improve your chances, you will want to fish the North Fork. Catching the Rainbow will most likely be your first of the four species. These are "pout and take" fish. The game and fish put them in, and you take them out. The Brown is a trout that spawns annually (Oct - Dec) in both rivers, with both fishing them equally as well. Remember, the world record once belonged to the North Fork River. Your third species of trout, the Cutthroat, can be elusive. Not that many are stocked here, but at times, there will be more of them than the Browns. Finally the Brook Trout. If you want the best chances of filling your grand slam, then go to the North Fork Dam and fish the far bank. The closer to the dam itself, the cooler and deeper the water. That's were they like to hang out. The state record for Brook was caught at one of the commercial docks close to the dam. It weighed 5 lbs. and was only 18" long. Good Luck on your Slam!!