The Fly Fishing Academy
The ONLY Fly Fishing School on the North Fork of the White River
When River Ridge Inn wanted to become more than just an premier fly fishing resort on the North Fork River, we questioned our guests as to what they would most like to see us provide. There were many different suggestions, but the one that stood out was one that we could see the majority of our guests use. A Fly Fishing School. Not just one that would teach beginning fly fishing, but one that would address the needs of fly fishermen beyond what was being taught at clubs, fishing outlets and the back yards of avid fly fishermen.
Fly Fishing is as much of an art as it is a science. Either the basic principles can be learned out of a book, but, to become truly proficient, it takes years of experience and listening to those that have been there before you. Unless you have fishing access out your back door, are a fishing guide, are retired or independently wealthy, it is unlikely that you will find the time to develop the skills that most fly fishermen would love to have. Some flyfisher persons feel that they already have the skills necessary to satisfy their fishing hunger, while others can never get enough information and assistance to become all they can be in the sport of fly fishing.
River Ridge Inn decided to bring together the best team of instructors that the White River System has to offer. These instructors have over 200 years of fishing experience, 150 of those years fly fishing and over 90 years of guiding and providing fly fishing instructions. These guides have agreed to instruct those interested in both the science and art of fly fishing beyond the beginner level. You could get this same information and instruction by hiring all of our guide/instructors every time you go fishing here. Or, you can spend your time and less money by attending The Fly Fishing Academy at River Ridge Inn Workshops.
Workshops for Developing or Refining Fly Fishing Skills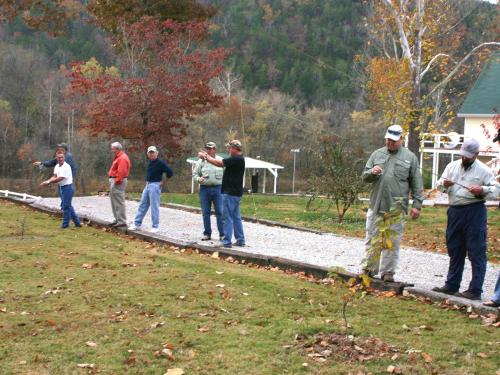 Workshops are temporarily on hold, but that will not keep us from helping you match the right guide for the right needs. Call or email us and we will discuss your needs and desires and then hook you up with the guide that best fits. The price will be very close to what you would pay for the Workshop, and, you will be getting much more one on one attention. Our instructors can usually take up to three clients, depending on the level of skill that they currently have. For the Ladies, we have a certified lady flyfisher person. She is equally good at teaching men, but she understands first hand how a lady that is a beginner needs to cast, and maybe more importantly, how to dress. Please call us, we are here to help.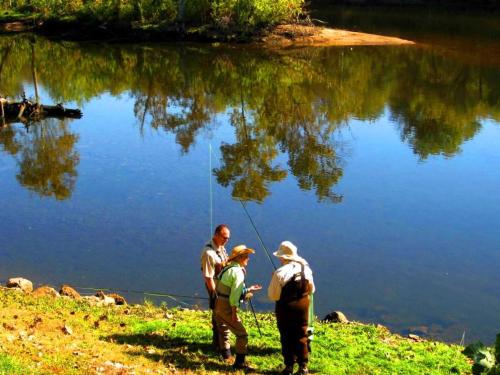 What is a flyfishing workshop? It is two days of hands on instruction that covers 8 different aspects of Fly Fishing. Each day there will be 4 courses of differing subject matter. Each course will be two hours in length. You can attend any or all of the sessions. These offerings may be given on the water, on land, in the classroom, or, a combination of all three. Some of the subject matter options are:
Streamer Fishing
Advanced Casting Techniques
Spey Casting
Dry Fly Fishing
Nymph Fishing
High Water Fishing
Night Fishing
Handicap Casting
Entomology
Fly Fishing from a Boat
Conservation of our resources
Hook Set
Warm Water Fishing
Distance Casting
Wet Fly Fishing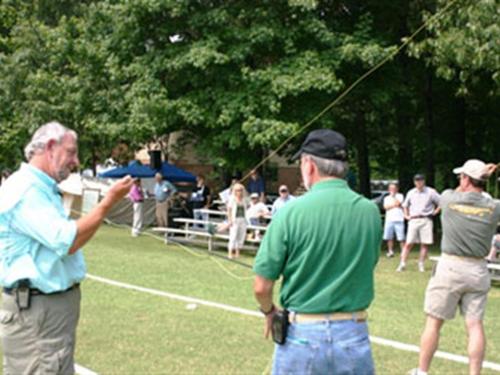 During each workshop, there will be offered a two day Beginner Course. The student to instructor ratio will be no greater than 4:1. Much of the instruction will occur in the water. Please remember, it is only safe to be in the water when the generators are NOT running. Our instructors know when and where it is safe to go for in water lessons.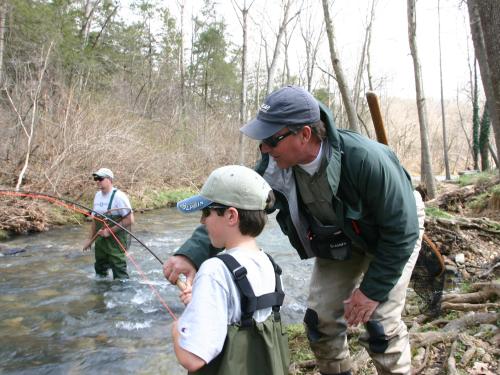 The Workshop All Inclusive Package begins upon your arrival on Thursday afternoon. Thursday evening will be an informal barbeque where all attendees will be greeted and where they can mingle and meet those who will be attending with them. Friday and Saturday are Workshop Sessions. Sunday is open. Practice what you learned on your own, or hire one of the guide/instructors for the day. Check out will be flexible. We know that a fresh shower will be helpful for the trip home.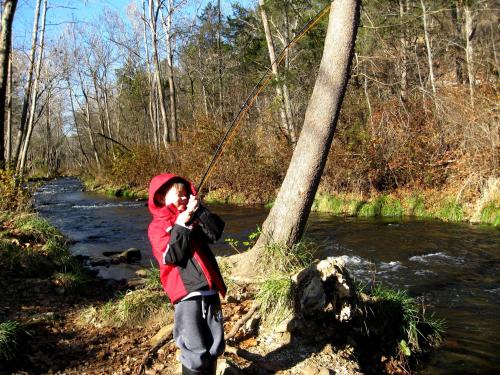 We have a special interest in teaching children to fish. We find that even a 6 year old can handle a fly rod. They may not be ready for the big water, but everyone of them enjoys the safety and fun that comes with the child and his guide. The parents are the netters. Believe me, you will be the ones that ask for a break in the action. Call us and let us put the right guide with the right kid. Don't forget the camera, sunglasses (polaroid) and the biggest net you can find. What a blast!